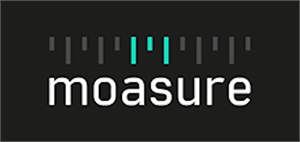 Moasure
Stand P131
Make difficult measuring easy with Moasure ONE, the world's first and only motion-based measuring tool. Quickly and easily capture perimeter, area and elevation without phone signal or GPS. Draw measurements in real time with the Bluetooth-connected Moasure PRO app, then transfer diagrams into design software, or share with colleagues and clients.
Categories
Car Park Maintenance/Repair

Road Marking

Car Park Design and Build
Products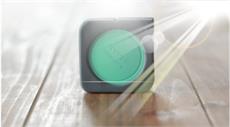 Moasure ONE offers an entirely new and unique way to measure complex spaces, rapidly calculate area and register changes in elevation – and it's already a must-have tool for a rapidly growing number of professionals in the highways, roads and parking industry. Built using high-performance inertial sensors, this revolutionary tool works without phone signal or GPS, instead measuring with accelerometers, gyroscopes and algorithms – and all of this is packed into a pocket-sized device. Bluetooth technology enables measurements to be drawn in real time through Moasure PRO, the device's proprietary companion app – this means you can have a comprehensive 3D diagram of a job site on your smartphone in the time it takes you to walk around a room or outdoor space. Completed diagrams can be transferred from Moasure PRO into design software, quickly and easily, free of charge – they can also be sent directly to colleagues and clients, so you can have ready-made, professional-looking measurements ready to share in an instant. Moasure ONE is here to help time-poor professionals make the most of every minute, speeding up their measuring process, and factoring in gradients and elevations effortlessly. There's no need to rely on traditional, error-prone measuring tools any longer, as Moasure ONE allows experts in industries such as landscaping, construction, sports, lawn care, playground design and concrete, to quickly and accurately estimate jobs. Measure in a whole new way with Moasure, and make difficult measuring easy.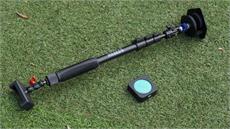 To accompany the Moasure ONE measuring device, Moasure created the STICK as a result of customer demand. This extendable pole accessory saves Moasure ONE users from having to bend down between measuring points, making capturing site diagrams much easier on your back. Moasure STICK features a protective, cushioned enclosure to keep your Moasure ONE safe and secure, an integrated universal smartphone holder for easy app access, and a heavy-duty handgrip. New for 2023, Moasure STICK now comes with its very own branded bag, which will not only help you to keep your STICK safe when not in use, but it also doubles up as a handy carry case, making measuring on the move even easier. The bag also features an internal zipped pocket, which is the perfect size for your Moasure ONE (sold separately).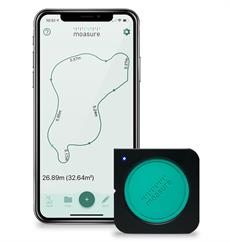 Moasure PRO is the proprietary companion app for the Moasure ONE motion-measuring device, and has been designed to help with smarter and quicker measuring. Using only Bluetooth to connect to each other, there's no need for cell phone signal or GPS. The app simplifies measuring with Moasure ONE through a clean and modern design, complete with an intuitive, easy-to-use interface, and innovative ways to measure complex and irregular shapes, both indoors and outdoors. With in-app feedback provided, users are able to improve their measuring technique; easy-to-follow guidelines from Moasure Coach will help with improved accuracy and give users more confidence in the way they measure. Measurements captured with the Moasure ONE measuring tool can be shared directly with colleagues and clients in an instant, and exported in various formats to design software. Moasure PRO works seamlessly with Moasure ONE, and the Moasure support team is directly contactable through the app and respond to any questions.
Videos
Moasure ONE - Live Demo at World of Concrete 2023
Watch Barry from Moasure perform a live demo with Moasure ONE, the world's first and only motion-based measuring device. Find out what this pocket-sized tool is capable of, and learn why it's quickly becoming a must-have tool for time-poor professionals in a growing number of industries, including highways, roads & parking. Measure perimeter, area and elevation quickly and with ease, and draw a 3D diagram in real time on your smartphone screen at the same time. Share completed diagrams with colleagues and clients in an instant, or export measurements directly into design software. Make difficult measuring easy, with Moasure ONE.