Truvelo (UK)
Stand F45
Truvelo is a leading developer and supplier of road safety solutions, including speed enforcement/awareness, moving traffic offences, body worn cameras and traffic data collection technologies. Established in 1993, Truvelo offers handheld, mobile and fixed-site solutions that integrate with its class-leading back-office system for management of criminal/civil offences. Truvelo also provides a full-spectrum installation service including destination EV charge points.
Categories
Electronic Toll / Traffic Management Systems

Loops / Sensors / Detection

Signage

Security / Enforcement

Speed Reduction / Traffic Enforcement

ANPR / Licence Plate Recognition

CCTV / Surveillance / Tracking

Electric vehicle charging

Intelligent Transport Systems (ITS)

Surfacing, Repairs and Maintenance

Traffic Calming / Lane Separators

Off Street IT Management Software

Road Marking

Traffic Control & Monitoring

Traffic Detectors

Traffic Management, Enforcement & Control

Traffic Safety Products

Variable Message Signs (VMS)
Products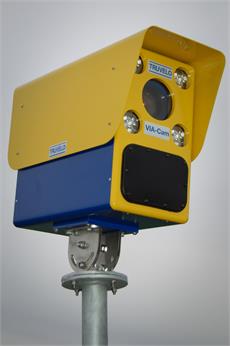 Managers of private industrial sites are increasingly concerned with H&S issues on site, including speed control. Until now the market has lacked an economically viable alternative to a Home Office approved device. Via-Cam is capable of capturing offenses in either direction around the clock and dovetails perfectly with your H&S policy. Offense imagines are stored on the camera for local download, or they may be transferred automatically via 3G to a back office server.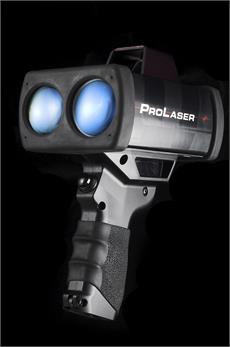 ProLaser 4's unique laser configuration and advanced optic design, together with it's latest-generation software algorithms, mean that it is notably better at acquiring targets, especially approaching motorcycles, even without a shoulder stock fitted. The display lock feature prevents a captured speed from being cleared if the trigger is accidentally depressed during a pursuit, whether in the car seat or when stowing the laser in a pannier or tank-bag. A unique count-up timer commences with each locked speed, giving further vital evidence when engaging with the motorist.
Unlike the old fashioned signs with pre-drilled holes and static LED output, TruSign Speed Indication Devices are the modern, flexible and friendly face of speed compliance. They are lightweight enough to be relocated from site to site by one person alone, and their energy efficiency means that a small solar panel is all you need in order to go completely off grid for low cost and easy installation. Data logging comes as standard with the TruSign 30CR, our most popular unit. As each sign is effectively a low resolution LED matrix screen; it is entirely possible to have a range of output messages such as TOO FAST, SLOW DOWN, smiley face, frowny face, vehicle speed and so on. It is even possible to automatically adjust the speed activation threshold from, say 30mph down to 20mph during drop-off and pick-up time outside a school.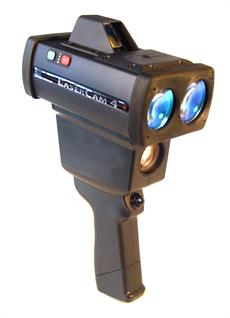 LaserCam 4 is the fourth generation hand-held video LIDAR and offers greater range to target, faster acquisition time, and image resolution of plates at longer distances providing a comprehensive video record of Speed Enforcement and target tracking history.