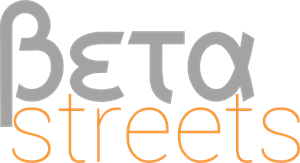 BetaStreets
Stand A14
BetaStreets is a purpose-built design and visualisation tool made to change the way visualisation is used in street design, highways and placemaking. Use images of the present, combined with items from our library of things (street furniture, infrastructure, construction materials, planting) to make new visions of streets and places. BetaStreets Pro is available via subscription. Purpose-built versions available on request.
Categories
Consultants / Research / Planning

Landscaping

Traffic Calming / Lane Separators

Paving / Footways

Street Furniture

Web apps & Mobile technology

Other
Documents
Case Study: BetaStreets x London Cycling Campaign (3.02 MiB)

Details of our collaboration with London Cycling Campaign in the lead-up to the London Local elections in 2022. Members of the cycling charity were given access to a purpose built version of the street design platform in the lead-up to the elections. The aim was to show how streets could be transformed into Climate Safe Streets that enable more active travel whilst providing vital biodiversity and resilience to man made climate change.
Videos
A Sea Of Solar Power
BetaStreets featured in a sustainable transport special of the BBC technology show Click. Andy and Jon meet presenter Spencer Kelly in Islington to show him the street design visualisation software and let him use it on some local streets.
BetaStreets Kerbs and Surface
Video showing how quick and easy it is to add new kerb, surfaces and planting in visualisations using BetaStreets.
BetaStreets Placing Objects
Video showing how simple it is to place objects in a visualisation using BetaStreets
BetaStreets Object Removal
Video showing how quick and simple it is to remove an object from a photo you're using in BetaStreets
BetaStreets Shadows
Video showing how easy it is to add shadows to objects using BetaStreets
BetaStreets Layers
Video showing how the layer function works in BetaStreets