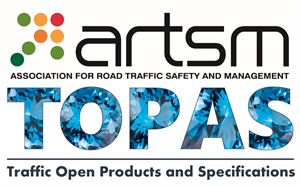 ARTSM & TOPAS
Stand K023
ARTSM is the trade body for manufacturers, service providers and consultants for products relating to traffic control, signage and street furniture. TOPAS is the custodian of functional specifications for traffic control and message sign equipment for use on the UK roads. It maintains the register of compliant products.
Categories
Access Control Equipment

Asset Management

Infrastructure System Integration

Loops / Sensors / Detection

Maintenance

Networking / Communications Systems

Over Height Detection

Passive Safety / Crash Friendly Products

Road Signs

Signage

Signalling

Software

Solar Powered Products

Speed Reduction / Traffic Enforcement

Temporary Traffic Lights

Traffic Cones / Bollards

Traffic Control & Monitoring

Traffic Detectors

Traffic Radar, ITS Radar, Radar Detection

Traffic Safety Products

Traffic Signalling & Control Devices

Traveller Information Systems

Variable Message Signs (VMS)

Vehicle Activated Signs

Vehicle Priority Systems

Verge Posts / Markings

Weather Information / Warning

Winter Maintenance

Wireless Data Communication
Documents
ARTSM Guidance Notes (514.92 KiB)

Attached is a list of guidance notes available from ARTSM. ARTSM is pleased to produce guidance notes on a range of topics to assist manufacturers and the user communities. Requests for guidance on issues can be made to the Association for discussion. We provide additional gudance to assist TOPAS, TSG , National Highways and other bodies when requested.