Wavetronix
Stand H030
Wavetronix is a world leader in radar technology for vehicle detection. We specialize in ITS applications with versatile detection and myriad applications for any highway scenario.
Categories
Asset Management

Education / Training

Electronic Toll / Traffic Management Systems

Highway Infrastructure

Inspection Services

Intelligent Transport Systems (ITS)

Loops / Sensors / Detection

Software

Traffic Control & Monitoring

Traffic Detectors

Traffic Radar, ITS Radar, Radar Detection

Traffic Signalling & Control Devices

Traveller Information Systems

Vehicle Activated Signs

Vehicle Priority Systems
Products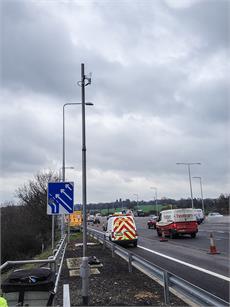 Smart traffic depends on accurate, reliable data. SmartSensor HD is the only vehicle detector that provides all the data you need, including per vehicle speeds, vehicle counts, average speed, 85th percentile speed, occupancy and more.
Videos
SmartSensor HD High Resolution
HD Beam accuracy is still the gold standard in detection.
Wavetronix SmartSensor HD
SmartSensor HD Overview of capabilities and use cases