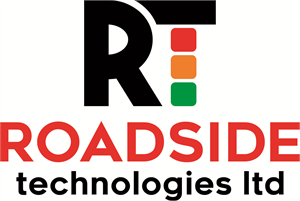 Roadside Technologies Ltd
Stand J050
At Roadside Technologies we manufacture and hire a range of solar powered products for the highways traffic management industry. We have designed a number of products which increase site safety, reduce clients carbon footprints and costs. Products such as our full colour HD VMS, Solar powered CCTV Towers for monitoring traffic and Solar Lighting Towers for providing emission free light.
Categories
ANPR /Automated Number Plate Recognition/ Licence Plate Recognition

CCTV Surveillance & Tracking Technologies

Display Technology / Systems

Enforcement Systems

Handhelds and Portable Devices

Ice Detection

Infrastructure System Integration

Intelligent Transport Systems (ITS)

IT solutions For Traffic / Parking Enforcement & Control

LED's / LED Lighting

Lighting

Loops / Sensors / Detection

Over Height Detection

Road Signs

Signage

Solar Powered Products

Speed Measuring

Speed Reduction / Traffic Enforcement

Street Lighting

Temporary Traffic Lights

Traffic Calming

Traffic Control & Monitoring

Traffic Detectors

Traffic Radar, ITS Radar, Radar Detection

Traffic Safety Products

Traffic Signalling & Control Devices

Variable Message Signs (VMS)

Vehicle Activated Signs

Vehicle Classification

Weather Information / Warning
Products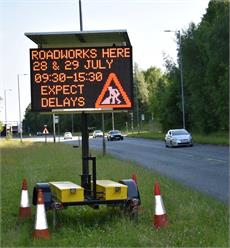 Full Colour HD VMS (Variable Message Sign)
Our VMS-S (Standard) are suited to roads with speeds of up to 50mph. Mounted on a compact trailer, it is designed to be used in city centres or pavements with limited room. The VMS-S can display up to 8 lines of text per page and Chapter 8 MS4 Style graphics. Fitted with some of the most energy efficient solar panels available, the VMS-S has the scope to run all year round on solar power alone. Fitted with the highest resolution screen within the VMS industry, users can display more text on the screen. Uniform characters allow road users to quickly read and absorb all information whilst passing. Pictograms can also be added which can alert motorists to the dangers ahead. Changes to the message can be quickly made remotely via our web interface or IOS app. GPS asset tracking is also included as standard. Removeable wheels and tow bar offer increased protection whilst on site with the backup of GPS asset tracking.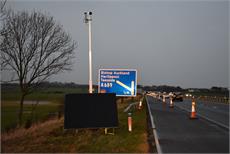 Solar Powered Highways Monitoring Tower
Our Solar powered portable CCTV tower has been designed and tested rigerously for the UK highways industry. Believed to be the only fully solar powered solution for monitoring narrow lanes, the system will run continuously unaided on battery and solar all year round. It comes fitted with a PTZ camera and 4G LTE connectivity. Footage can be streamed over in real time on our dedicated iPhone and Android app. Previously recorded footage for up to 6 weeks can be stored and remotely viewed. The Solar powered portable CCTV Tower is ideal for use within temporary highways traffic management to monitor road closures or traffic flow within the high speed network for free recovery.